Principle Telecom Company: Citic Telecom International
Established in 1999, and is listed on Hong Kong Stock Exchange (HKSE : 1883)

Top 20 largest operator in the world

One of the leading ICT provider in Asia Pacific, serving over 8,000 VPN sites for MNCs,.

SG Investors like Temasek Holdings invested USD10mil on CITIC National Security funds etc.

 The big group behind Citic Telecom International Pte Ltd

Citic , rank 156 in the latest Fortune 500

Listed in HKSE ("267")
Over 133,000 staff
Own CITIC Bank with over 800 branches.
Corporate Mobile
CITIC Advantages
CITIC is the only provider that supports both Starhub and SingTel mobile lines.

CITIC provides you with FOC Value added services which upfront can save  you $20-$40/month per line just by coming on-board to CITIC

CITIC Provides consultancy to you on how to save on Data and Voice roaming  spent with full range of bundle coverage

Customizable billing and soft copy invoices in both PDF and Excel will be provided every month.

Dedicated account manager and support team, no longer you will require  to call a phone automated helpdesk for assistance

More roaming choices to maximize cost savings which will be shown on 
analysis once invoice is provided

1 point of contact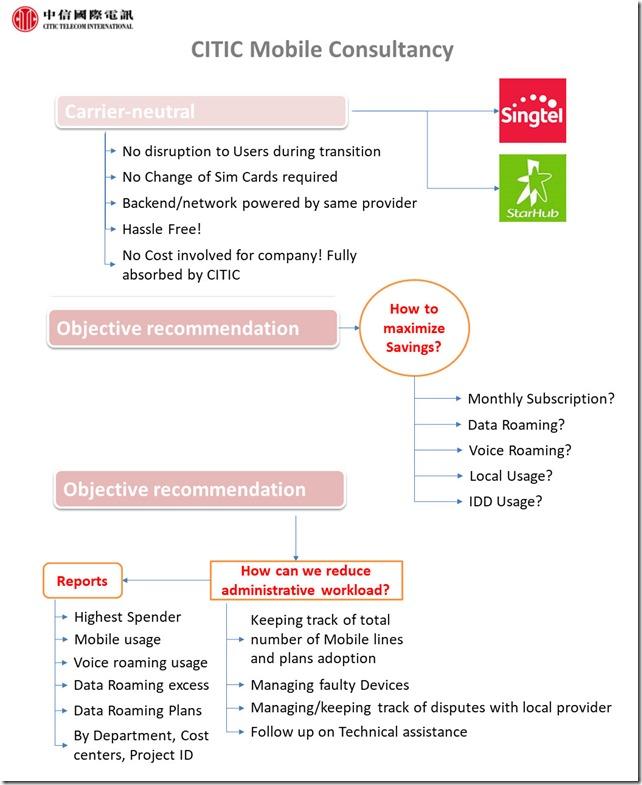 IDD Solution
CITIC Advantages
1.    No change to your user dialing pattern but we ensure all route will come 
       to CITIC to maximize cost savings
2.    No upfront cost investment needed, no cost output to you at all!
3.    CITIC is the only provider in Singapore that charges 6 sec per block, 
       all other providers charges by per min even though you utilize just 30 sec for a call.
4.    Comparing with local provider rates, CITIC ensure your cost savings is 
       50%-90% in comparison
5.    Customizable billing and soft copy invoices in both PDF and Excel will be 
       provided every month.
6.    Dedicated account manager and support team, no longer you will require 
       to call a phone automated helpdesk for assistance
Contact 900 42 600